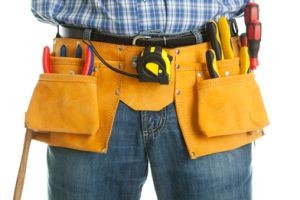 If you've negotiated a lease that requires tenant improvements in Arlington, hiring a local handyman is a great solution. An experienced handyman can repair drywall, fix wall textures, repair popcorn ceiling, and replace wood trim. They can repaint, replace the flooring, repair fences, and more.
Whether you own the property or manage it, you have a lot of details to take care of. The last thing you need is a handyman that doesn't do good work. You need a professional who pays close attention to detail and provides superior workmanship.
Believe it, your new tenant will spot every flaw in the repairs and will be calling you to get the job done right. Your handyman should not leave you with anything other than quality work that makes everyone happy.
The Little Fixes For A Make-Ready
There a hundred little details that need to be taken care of during a make-ready. An experienced handyman will have the skill to do improvements and repairs. Your make-ready maintenance check list will likely include:
Filling holes in drywall & woodwork
Repairing window screens
Replacing or re-keying locks
Replacing faucets & small plumbing fixtures
Sealing & filling with caulk, putty, or plaster
Replace shelves or cabinet boards under sink
Paint touch-ups
Drywall patching
Replacing light bulbs
Replacing light fixtures
Caulking exterior cracks
Replacing door framing
and more
Major Floor Replacements For Tenant Improvements
Your Arlington handyman should have enough experience to handle flooring services. Replacing a tile floor is major project that has to be done right. Not every handyman will want extensive projects like this, and not all who do are able to do quality flooring work.
The existing tiles have to be properly removed. The subflooring has to be properly prepared. And the new tiles must be properly installed. Mistakes leave bumpy or uneven floor tiles that look bad and are annoying to walk on. Make sure your handyman does tile work regularly.
Do You Need A Handyman For Tenant Improvements In Arlington?
If you are looking for an experienced local Arlington handyman for tenant improvements, call Darnell Green Remodeling. We are tile & painting specialists who also offer other handyman services in the Arlington area. We would love the opportunity to help you with your residential or commercial improvement projects.