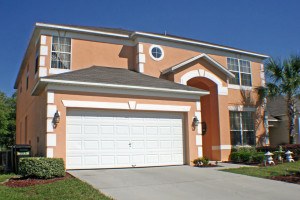 As you are likely aware, your home's exterior paint plays a large role in the overall appearance and beauty of your home, and like just about everything else, it is going to need to be touched up and replaced at times to help preserve the value of your home and protect your home's exterior surfaces. Have you walked around your home lately to take stock of the condition of your home's exterior paint? How are you supposed to know when the right time is to have your exterior paint updated? Fortunately, the best time of year to take care of your home's exterior painting needs is right now as we are getting into spring. As for how to tell when your home is in need of a new exterior paint job, our team of professionals have taken the time to put together this short list highlighting a couple of the signs you can be on the lookout for that might indicate your home is overdue.
Peeling Paint
If you take a look around your home and notice that you have areas of your home's exterior paint that are peeling, it might be time to give your local painting contractor a call and start picking out colors. These flaking and chipped areas of your home's exterior aren't going to get any better on their own, and in fact, will only continue to get worse as time goes on. As these areas continue to peel, crack, and come off of your home, the materials underneath your paint are going to become more and more susceptible to damage. If you find any areas around your home with bits of paint lying on the ground, but you can't seem to find where they're coming from, it could indicate that the paint on the upper levels of your home might be flaking in areas that you can't see from the ground.
Dirty Exterior That Doesn't Wash Clean
When the exterior surfaces of your home get too dirty, a good pressure washing, of softwashing in the case of more delicate materials, can usually help to remove these contaminants and leave the surfaces of your home looking fresh and clean once again. If, however, you find that washing the sides of your home don't seem to be doing anything to get rid of that dirty, worn look, it might be time for a new coat of paint. Investing in a new coat of paint will help to get your home's exterior a fresh start, which is sometimes what's needed.
Fading Color
Over time, the fierce rays of the sun will eventually start to fade and dull the vibrant colors of your exterior paint. What was once a bright, vibrant color can easily be rendered a faded, worn out looking version of itself over time, and when that happens, it is probably time to start looking at new color options. Applying a new coat of exterior paint to your home will help to instantly refresh the look of your home, even out the color, and give your home a well-cared for look.